Undergraduate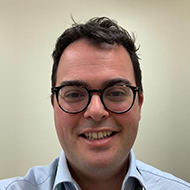 Welcome to the East Kent Hospitals Undergraduate Programme. We have a strong tradition of undergraduate and postgraduate teaching, with a well established undergraduate faculty. 
Medical Students are trained here from King's College London GKT School of Medical Education, St George's University London, and St George's International Medical School Grenada. (Read a testimonial from one of our St George's students)
We aim to give all students based in East Kent an excellent experience, providing good clinical exposure, excellent teaching and pastoral care, and to aid their development in all aspects of medicine.  
Dr Ciaran Crowe Director of Undergraduate Medical Education, Clinical Associate Director of Medical Education and Consultant Obstetrician and Gynaecologist
The Trust-wide Handbook and Health Declaration can be found below. Use the site-specific links on the right to view teaching programmes, rotation schedules, teaching staff, contact details, and more.